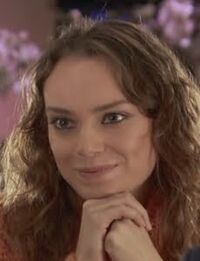 Melek Ataman is Benu Ataman's sister.
She had a brief affair with Mr. Safer, who later died In a plane crash.
After that, she had a semi serious relarionship with Burak Inceoglu, who grew tired of her jealousy and left her.
She works In Binyapi as a PR manager.
She shared an apartment with her sister Benu. After Benu marries Kerem Inceoglu, she had to turn in her apartment and moved with Eda Akinay.